Revisiting Texas Football: Breaking down 5 plays from Texas vs TCU
With running back Bijan Robinson having his best day as a Longhorn, Texas pulled out a nip-and-tuck 32-27 win against TCU.
Here are the top 5 plays from Saturday's game.
1. Robinson is too shifty
With 5 minutes left in the first quarter, Texas trailed early 7-3. The Longhorns ran a halfback draw to feed the ball to its best player.
Tight end Jared Wiley motioned over and the whole defense shifted instead of one defender following him, indicating that TCU was in zone coverage. Wiley then kicked out the blitzing edge rusher for a second allowing Robinson to easily shake off an ankle tackle.
Robinson saw the hole created by the offensive line and exploded through it like a cannonball out of a cannon. After pushing through the hole he was faced one-on-one with a TCU defender. The running back  then performed an explosive jump cut to make the defender miss. He easily sped past two Horned Frog  defenders attempting to close the hole to tackle him, giving Robinson the first of his two touchdowns on his legendary night.
2. Thompson tries forcing a deep ball
Up to this point with one minute left in the first half, Texas had been in a tough battle with TCU. If the Longhorns could pull off a field goal or touchdown, Texas would have more breathing room before the half.
On this play, wide receiver Jordan Whittington made a small motion down from the hashes. The cornerback defending him shifted down with him, showing that the Horned Frogs were in man coverage. Offensive tackle Christian Jones and tight end Cade Brewer formed a double team on a rushing defensive end. When Brewer released off the defensive end to run a drag route, Jones couldn't handle the defender and he blew right past him.
Thompson had the ball in the pocket with little time. His eyes were only focused on the right side of the field because he wanted to make a big play so that Texas could put the game away early. Throwing it to an open Brewer would've kept the chains moving and could have resulted in a field goal, however, he tried lobbing it to wide receiver Xavier Worthy in triple coverage.
The pass was easily intercepted, and while this mistake did not result in any TCU points, it represented a recurring issue with Thompson throwing a similar interception against Texas Tech.
3. Anthony Cook cooks the quarterback
For this play on TCU's first drive of the second half, the Horned Frogs ran a play action pass play to try and keep the defense honest. Texas gave the look that it was only bringing four pass rushers to go after the quarterback. TCU didn't recognize a delayed blitz by defensive back Anthony Cook.
When Cook saw no one trying to block him, he screamed off the edge, focused dead-on toward quarterback Max Duggan. Duggan did not have time to finish his reads before getting rocked from behind. With the big hit, Cook forced a fumble and scrambled to recover it himself.
Cook pulled off the difficult trifecta of a sack, a forced fumble and a fumble recovery all on one play.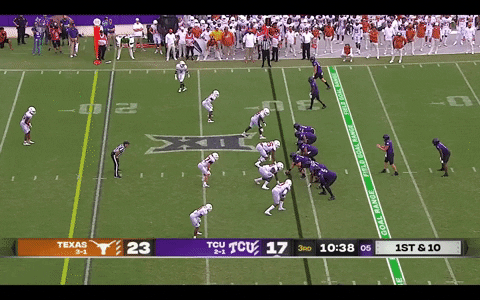 4. Thompson throws a strike to Whittington
Early in the 4th quarter with Texas holding a miniscule four-point lead, The Longhorns were attempting to break away from TCU and put the game on ice.
Texas ran the play action pass that it loves to use so often because opposing defenses are always afraid of Robinson gashing them up the middle. When Thompson kept the ball, he noticed that both inside linebackers for TCU collapsed down on the gaps, afraid of Robinson running loose on them like he had done the whole game. This left the middle of the field wide open for a blazing Whittington to perform a slant route.
Thompson noticed the gap and threw a dart to a striding Whittington, who ran completely free for the 32-yard touchdown reception and gave Texas a comfortable 32-20 cushion early in the 4th quarter.
5. Bijan takes on the whole team
Texas was out to put the final nail in TCU's coffin on this play. If the Longhorns converted on this 3rd-and-6, then the game would essentially be over with TCU out of timeouts.
Sarkisian called his best player's number and fed the beast that had been shredding TCU the whole day. The offensive line initially picked up the rush of Horned Frog defenders, creating a hole that was just big enough for Robinson to fit through. However, there was a TCU linebacker who, if left unchecked, would have easily filled the hole and gone after Robinson.
Brewer had different intentions for the linebacker, though. He kicked out and blocked him, making the hole even larger and allowing Robinson to run through for an easy five yards. Robinson, with four TCU defenders wrapping him up, refused to go down.
With the help of some of his offensive linemen and his own strength, Robinson drove the pile to a first down conversion that secured the win, showcasing his  dominance.